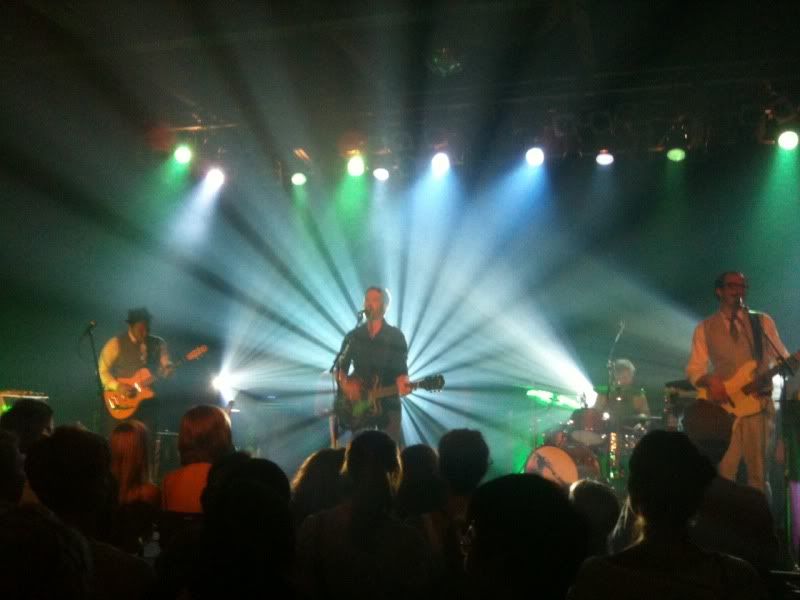 Josh Ritter
w/Yellowbirds
Music Farm (Charleston, SC)
July 26, 2011
My road as a Josh Ritter fan has neither been smooth nor short. But on Tuesday night, it led me the rain-washed Music Farm here in Charleston for Ritter's live set, backed by his Royal City Band.
First, a little on my history as a Ritter follower. The aforementioned road began in around 2005, when I bought Hello Starling at the behest of some Ryan Adams fans who habitually fawned over Ritter. Perhaps soured by their irritatingly persistent praise of the guy, I thought the album was pretty terrible. In fact, it remains the only CD I've ever traded for store credit. Of course, it's not that bad a record, and returning it was essentially grandstanding. I still don't think it's anything special, but I'll throw it on once a year or so. Regardless, I proudly ignored Ritter for the better part of two years. It was during those two years that he happened to release one of the better singer-songwriter albums of the 00's in The Animal Years. The buzz was immense. But with Ritter fans, it always was. They'd cried wolf before, so the chatter went in one ear and out the other.
Finally, in 2007 a friend offered to buy the album for me. It was an admirable gesture, and one I've certainly extended before. Admittedly, I downed a 32 oz. bottle of blood-red Haterade before I listened. I was content with my role as cavalier anti-Rittite, and I aimed to maintain it. But damn it--I couldn't deny The Animal Years. It's a warm, majestic folk album with rich arrangements and a cinematic flow. It soundtracked the twilight of my college years in Columbia--in fact I had it on repeat while I somberly cleaned out my old college house, rolling up posters and boxing records mere hours before I hit the road to Charleston and embark on adulthood.
2008 brought
The Historical Conquests of Josh Ritter
, which I largely ignored due to some major releases that occupied most of my listening hours that year (
Fleet Foxes,
Bon Iver's
For Emma Forever Ago,
Sun Kil Moon's
April,
and TV On the Radio's
Dear Science.
) But I wouldn't overlook Ritter's most recent release
So Runs the World Away
, due in large part to its inclusion in last year's
Indie Music MAYhem
. It's not as grand an achievement as
The
Animal Years
, but it's an impressive album nonetheless, highlighting Ritter's penchant for historically charged story-songs and lush arrangements.
While I've grown out of disliking Ritter on principle, there are still a handful of singer-songwriters who I'd rather hear on a regular basis. Maybe if Ritter took his storied live act to Charleston, he'd climb the ranks a bit. For years I've kept an eye on his touring schedule, only to find that he rarely wanders outside the northeast, save for his homestate of Idaho. Indeed, he informed us it had been 12 years since he'd played Charleston last, and that's before he was on anyone's radar. But a few months ago, it happened: Ritter booked a gig at the Music Farm.
As expected, the crowd was far under capacity. I don't think I know anyone locally aside from my girlfriend who know Josh Ritter, so this wasn't a surprise. Still, there were enough warm bodies to consider it a decent draw. We showed up a few songs into the Yellowbirds' set. The Brooklyn bands' sound is that of a more upbeat Cass McCombs (the lead singer's voice is a ringer for Cass) so I quite enjoyed the set. I've already found the Yellowbirds' 2011 debut The Color, and so far so good. Look forward to covering them a bit here.
Anyway, Josh Ritter snuck onto the stage with virtually no one noticing. A bunch of heads spun when Josh took the mic with a cheerful greeting. I'm going to be patchy on the setlist--played a lot of songs I wasn't immediately familiar with. I was a bit dismayed at the lack of Animal Years material. "Wolves" was soaring and "Lillian, Egypt" invited full participation on the "da-da-da" portion following each verse. Josh opened the encore with a solo acoustic version of "Girl In the War", dedicated to "the folks in Norway". Aside from that, he relied heavily on his past two albums. Many song of the night candidates, but the final one-two punch of "To the Dogs Or Whoever" and "Change of Time" was mighty impressive. Even though it's a bit too sacharine for my tastes, it was nice to hear Josh belt out fan-favorite "Kathleen". Archaeological fantasy "The Curse" was eerily beautiful. I was a tad bummed we didn't hear the chilling "Another New World", but it might not have flown with the type of chatty crowd the Farm so reliably draws.
The real takeaway from the night was Josh's stage presence. It's always what you hear about the guy, that he never stops smiling. It's pretty much true. He'll table it during the more serious tunes, but he'll still punctuate the final strum with a hearty, "Woo!" You've got to hand it to the guy: he's about the happiest stage performer I've ever seen. And it's not that he's basking in the attention, or playing humble at the hollers of swooning girls (there were many). The impression is that he's just excited about his music, no matter if he's playing in front of a thousand, a hundred, or a handful of people. Hell, he might grin his way through lone practice sessions. Whatever the case, his demeanor made for a joyful environment. I was legitimately sad to see him leave the stage.
Thankfully, he promised it would be less than a dozen years before a return trip. Genuine statement or stage pandering? Who knows, but I hope he comes back soon. I'm still hesitant to deify Ritter, especially until he releases at least one more truly brilliant record. But Tuesday night, he won a larger share of my fandom. To paraphrase Ritter: if I was cursed, I think that I'm cured.
No setlist online yet--there may never be, unfortunately. But some pics: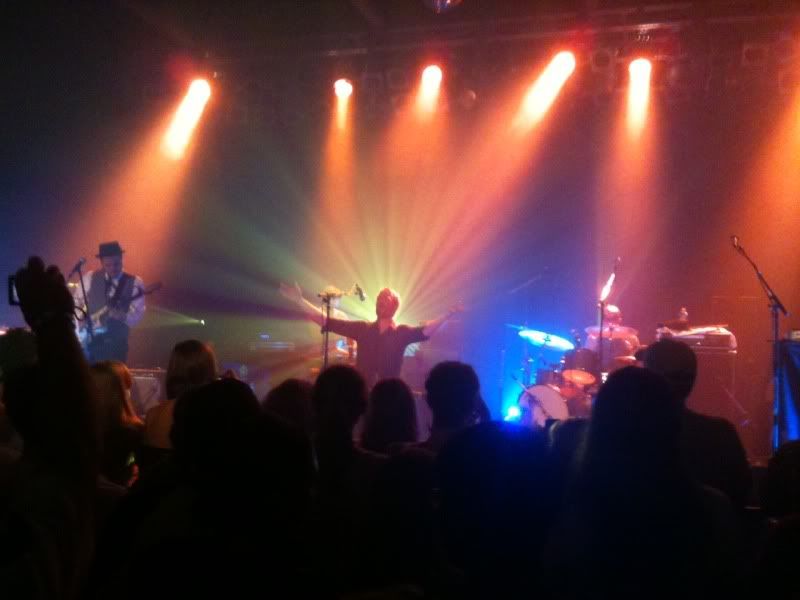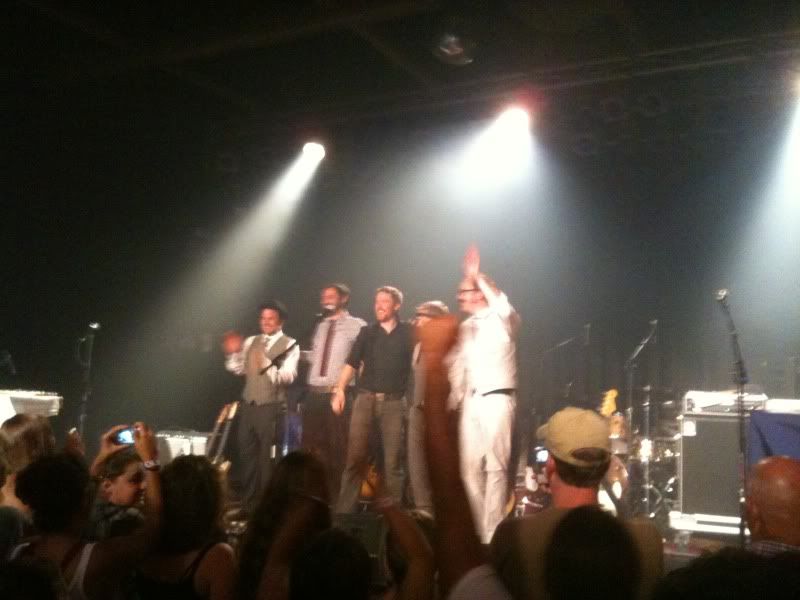 Other Music Farm Reviews:
Dr. Dog
The Hold Steady
Modest Mouse
Andrew Bird