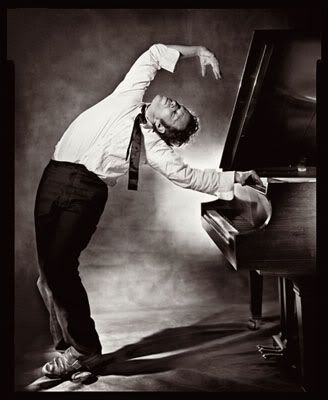 Over the past week, the sleeping giant Thomas Alan Waits had shown signs of stirring. Indeed,
24 Bit
is now reporting that
Bad As Me
, Waits' 18th LP proper (that excludes live albums and collections), will drop on October 25. It's his first album since 2004's
Real Gone
, which is striking in that it parallels Gillian Welch, who earlier this year released her first album since '04.
We're awaiting some sort of address from the man himself, which should be up on his website sometime today. The last time he made such an address, it was to announce the Glitter and Doom tour, which afforded me the opportunity to take in
Tom's magical Atlanta set
. Is another tour forthcoming? Doubtful, would be my guess. In the world of Waits, tours and album releases are often mutually exclusive endeavors. But you never know, right? I'm particularly excited for this release since it represents the first new Waits LP since I've been a fan. I wasn't on board with Mr. Waits until 2005 or so.
Of note: the album stands to factor into into our recently-analyzed
Singer-Songwriter Album of the Year discussion.
The title-track single is available on iTunes--I've yet to hear it but I look to rectify that situation sooner than later. Anyway, if you want to prepare yourself in advance of the new record, why not check out last year's
Tom Waits Appreciation feature?