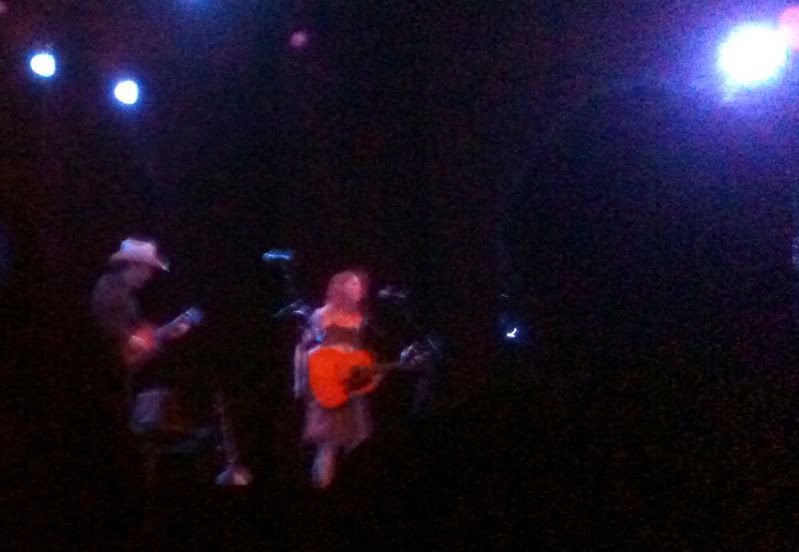 Step into my musical Wayback machine, and let's set the dial to 2004. A scrawny college sophomore and burgeoning music nut, I was fast broadening my horizons but still something of a neophyte. My obsession with Ryan Adams carried over from freshman year, although at this point I was more interested in Whiskeytown and his vast unreleased canon than, say,
Gold
. I was starting to take an interest in Wilco--one of my first orders of business back at school was
downloading the much-ballyhooed Yankee Hotel Foxtrot in its entirety.
By the end of sophomore year, I'd blown through the Wilco catalog much in the way I'd done with Ryan Adams the year before. This was also the year I'd discover Elliott Smith, Iron and Wine, the Shins, and a handful of other alt/indie/whatever required listening.
Amidst the influx, I remember vividly the first time I heard Gillian Welch's "Revelator": preparing to leave for class, looking for reasons to put off the commute. A few successive listens of Gillian's opus did the trick. I was quick to recognize it as one of the best songs I'd ever heard (no hyperbole here) and developed the urge to see Gil and Dave perform it live. Unfortunately, a few opportunities slipped through my fingers. That, paired with the tandem's lengthy period of studio dormancy, meant a seven-year holding pattern, during which I'd have to busy myself with ad nauseam consumption of their back catalog. But finally, with the new album came an
immense
tour, and with it a stop in Charleston.
The Charleston Music Hall is a criminally underutilized venue, a seated theater situated on John Street, half a block from the bustle of midtown King. It's a gorgeous theater that seats just shy of a thousand, and there isn't a poor vantage point in the place. My past experiences at the Hall? A night of jazz with Wynton Marsalis and his big band, and then ticket scanning duties a
Bryan
Adams show. So I knew the venue, although neither experience was in my wheelhouse the way Gillian's was sure to be.
I bragged a few months ago about our stealthily obtained front row tickets. My hubris was not rewarded, as it turns out the venue added a row of chairs ahead of the front row, relegating us to the SECOND row. What an outrage! #1stworldproblems Still, we had a fantastic vantage point, about a dozen seats stage right. The stage set-up was refreshingly minimalistic. Each performer's spot was marked with a mic for vocals and another aimed at the instrument. Situated in the background was a refueling station of sorts: a small table flanked by instrument stands. On the table were two glasses of water and a brown jewelry box filled with picks and harmonicas. All that was left was for Gil and Dave to take the stage.
The lights fell, and out strolled the couple, each toting a guitar and Gillian with a banjo as well. No roadies, no pretense. They looked like two kids at a recital, fighting back smiles while they tuned amidst the applause. Gillian is a tiny woman, all elbows and angles. It's like she's made out of spindles with a pale white linen sewn over. She wore a sundress and cowboy boots, her red hair hanging in strings about her shoulders. Dave looked dapper in a grey (or maybe olive) suit, black boots and a massive Stetson. They had the look of a traveling mountain-folk duo, alright, but did they have the chops?
That, of course, is a rhetorical question. Gillian Welch and David Rawlings are stunning purveyors of their niche, a sort of refined old-time folk with a lyrical focus. Their harmonies unify so seamlessly that it's almost demoralizing to those of us who aren't so skilled, but I suppose that's the byproduct of nearly 20 years of collaboration. I noticed that in lieu of counting off to start a song, Gil would hum a bar of the vocal melody off-mic before she and Dave set in. It was a beautiful touch, but its purpose was practical, which made it even more affecting. It's hard not to dub the stunning performance of "Revelator" song of the night. As with most of the set, it wasn't far removed from the album version, but why should it be? Most of their stuff is recorded live-in-the-studio as it is. An extended solo was the only distinction from its studio form, but the audience welcomed the hefty dose of Rawlings' expressive guitar work. Rawlings played his trademark 1930s Epiphone archtop, flatpicking his way through the thousands of springy notes that made up his licks.
Other standouts were
Harrow and the Harvest
tracks "That's the Way It Will Be", "Tennessee", set-opener "Scarlet Town", and "Six White Horses". The latter featured Dave on banjo and harmonica, and Gil providing hambone percussion and midsong clogging. It was charming, believe it or not. They introduced "Elvis Presley Blues" by deeming it their holiday song, "if you consider Elvis' death day a holiday." The only miss of the night was David Rawlings' turn performing "Sweet Tooth", a track from 2009's
A Friend of a Friend.
The song is fine, but it wore on for ages and by the fifth verse about candy, I found myself wondering about the fantasy football draft I was missing. The night's finest moment, indisputably, was the second encore. The duo stepped to the front of the stage, off-mic, and announced that they'd like to leave us with the first song they'd ever played together. They set into a delicate version of "Long Black Veil" that managed to silence the surprisingly gabby audience.
To echo the analysis of a friend with whom I attended, it was exactly what I expected it to be. A masterful performance by two musicians who have a long-fermented compatibility and elite songwriting chops. I can't imagine a soul left that sold-out Music Hall underwhelmed. As we walked out into the night in search of a post-show pint, I still felt Gil's silken coos and Dave's nimble guitar lines dancing in my ears. Seven years after I first heard "Revelator" in that tiny apartment bedroom in Columbia, I can happily confirm that it was well worth the wait.
Setlist, as photographed by Gil and Dave's twitter feed. Good luck deciphering their shorthand. Following that, some crappy pictures. Unfortunately, the venue forbade photography, so I had to be sneaky and it was low-lit.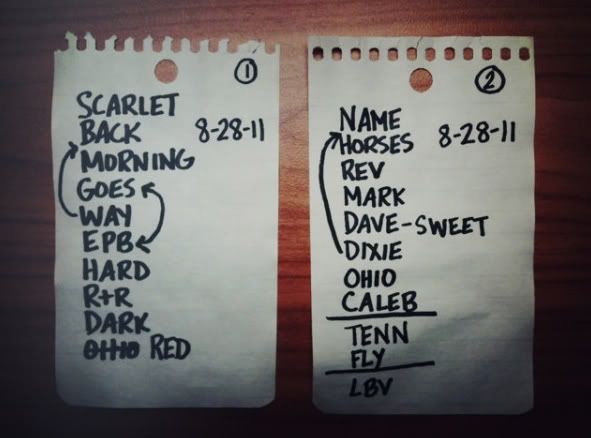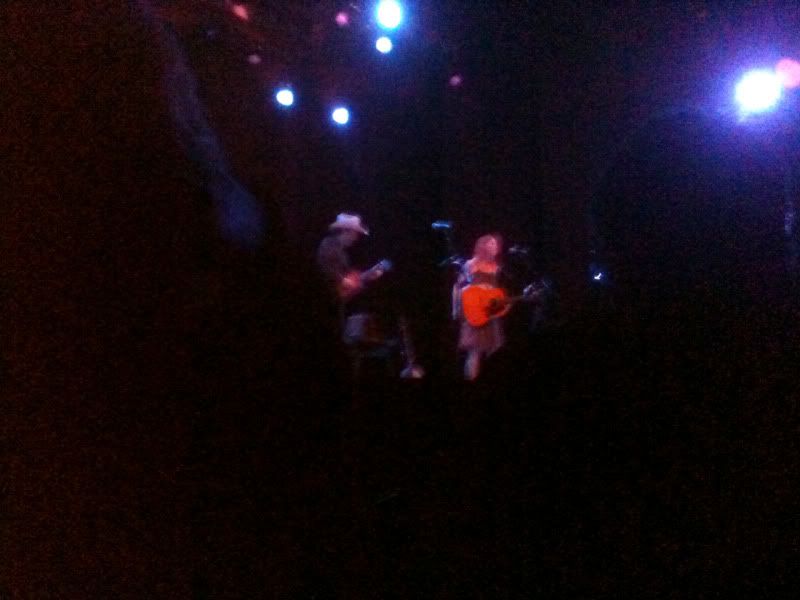 \