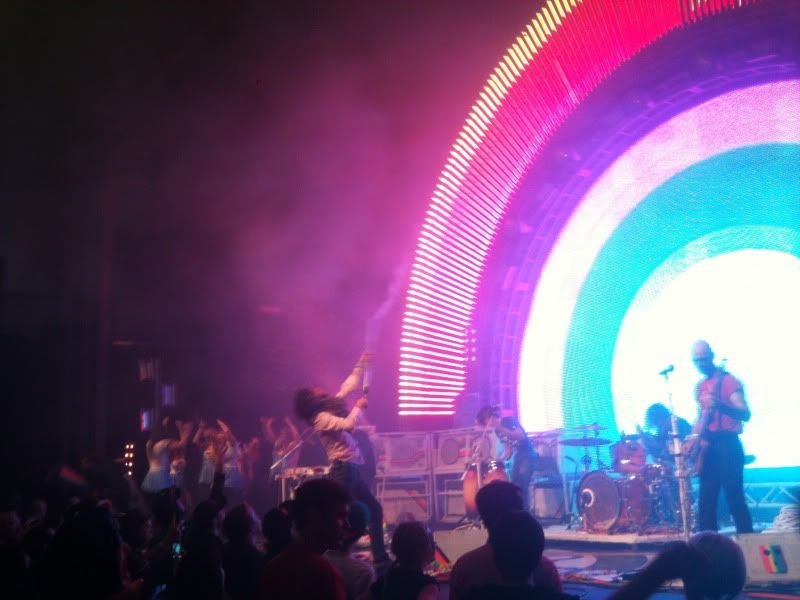 Flaming Lips
w/Talkdemonic
North Charleston Performing Arts Center (Charleston, SC)
October 28, 2011
A fact I've learned about myself as I age is I'm not big into "cult" culture, and by that I mean any slice of pop that appeals to a fervent and specific demographic. I can enjoy cult
entertainment
. I suppose
Monty Python's Life of Brian
would be considered a cult film, and it's among my favorites. But it's the ancillary behaviors borne out of the principal works that repel me. For instance, aren't there call-and-response cues throughout
Rocky Horror Picture Show
? And arriving at a movie premiere in costume always seemed ridiculous to me. (Ed note: I did bring a rubber snake to
Snakes on a Plane
, but that was tongue-in-cheek.)
One can hardly categorize The Flaming Lips as a cult band, considering they're one of the more titanic indie rock acts on the planet. But there is at least a breed of Lips fans, the so-called "Freaks," who worship at the altar of Wayne Coyne. They take drugs and dress up and gush when Wayne lovingly calls them "motherfuckers"between songs.
There are also those who primarily respect the Lips as a seminal progressive indie-rock act (raises hand.)
Soft Bulletin
is one of the 90's best records,
Yoshimi
is a triumph as well; even
Embryonic
, the Lips' latest LP, was
one of my favorites of 2009
. I appreciate the band's image and theatrical approach, but it certainly doesn't affect my ability to enjoy their music one way or the other.
I've seen the Lips before, in memorable fashion.
I stumbled across a free performance on the National Mall on Earth Day of 2009
. Blustery and spitting rain, I lasted only a handful of songs before I retreated to warmer environs, but it was quite a treat. Granted, I would have rather heard standard performances of songs such as, "Yoshimi Battles the Pink Robots Pt. 1" and "Fight Test" instead of the sing-along versions we got. But maybe that approach was due to the festival-like situation. I looked forward to seeing a more standard Flaming Lips performance, if there is such a thing.
364 days after our last experience at the North Charleston Performing Arts Center,
the lady and I filed into our second row seats, amidst a sea of colored wigs and costumes. Halloween was three nights away, but Freaks habitually dress up as it is, so the bananas and elves and slutty-whatevers filling the rows weren't exactly novel.* The opening act, Talkdemonic, was a two piece post-rock outfit from Portland. As a lyrics guy, post-rock escapes me for the most part, but they were serviceable tonesetters for the evening. I do have a lingering gripe, however: if you're going to be a two-piece band, I find it unfair to supplement with backtracks of other live instruments. Looping is one thing, but just pushing play on a pre-recorded banjo track? You're playing
live.
How about hiring a banjo player?
After Talkdemonic wrapped, the Lips' crew (which included the Lips themselves) undertook the daunting task of prepping the stage for the multimedia melee on tap. Wayne Coyne doesn't try to protect his mystique--in fact he outright dismisses it, instead relishing in the attention he was awarded for showing himself. He eventually took the mic and offered a cheerfully profane introduction before returning to facilitate the set-up. You have to admire that neither Wayne nor any of the Lips are above being hands on after all these years.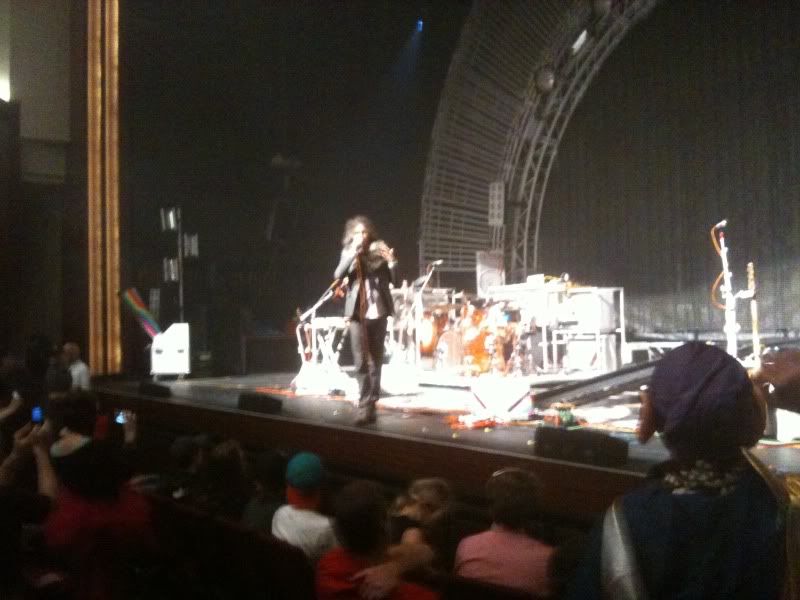 The set opened with the band's four non-Coyne members (keyboardist/guitarist/genius Steve Drozd, drummer Kliph Scurlock, bassist Michael Ivins, and young guitarslinger Derek Brown) emerging from a hidden door in the center the massive, semicircular screen. In true Lips fashion, a spread-eagle naked chick was occupying said screen. So, yes, she gave birth the band members. Meanwhile, Wayne was in his famous hamster ball, and set out on a bee-line to the back row of the sprawling orchestra pit.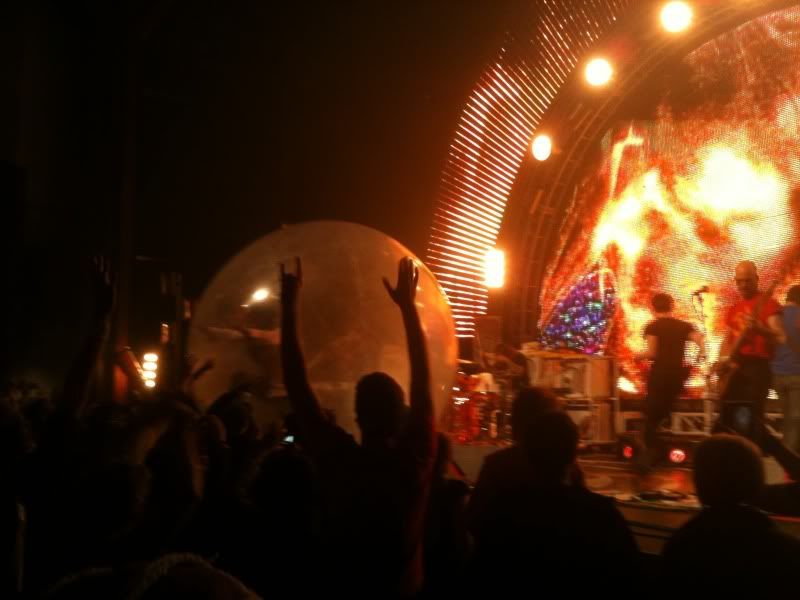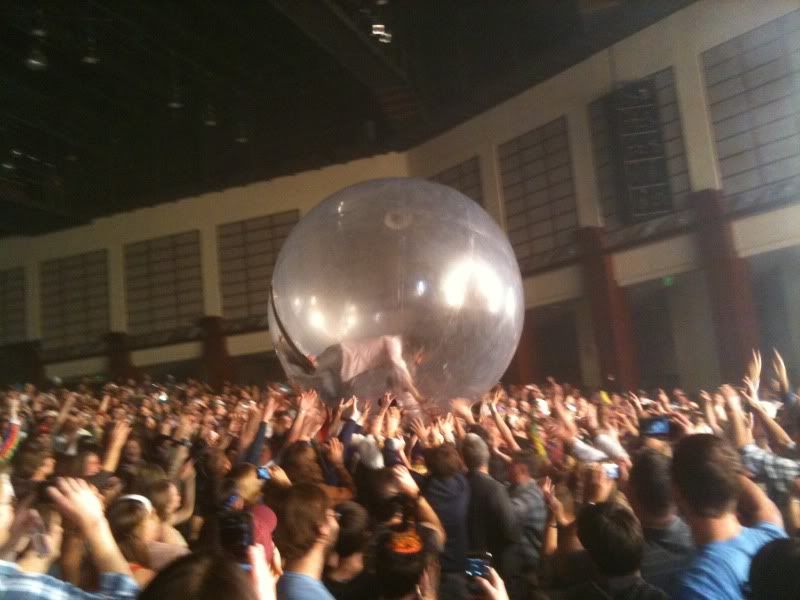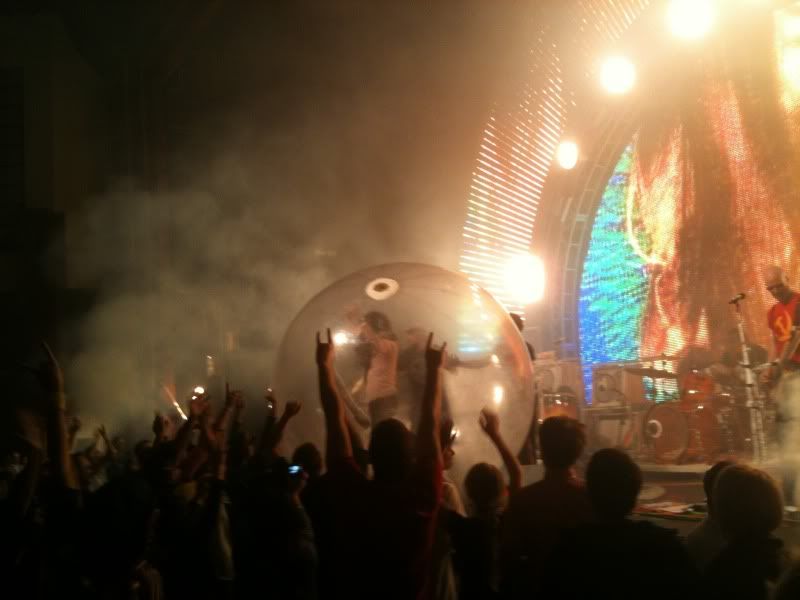 The band was flanked by gaggles of slutty Dorothys whose enthusiasm ranged from "upper-fueled mainstage stripper" to "reluctant extra in high school production of
The Crucible
." The ladies were occasionally joined by enormous inflatable mascots, or a tin man, or a roadie with a fog gun. While I recognize the band's motive for having the girls onstage (bolstering the dance party environment, I guess?) it still seems lowbrow. And the fact that a few of the girls appeared uncomfortable or disinterested didn't exactly convey the level of energy that was intended.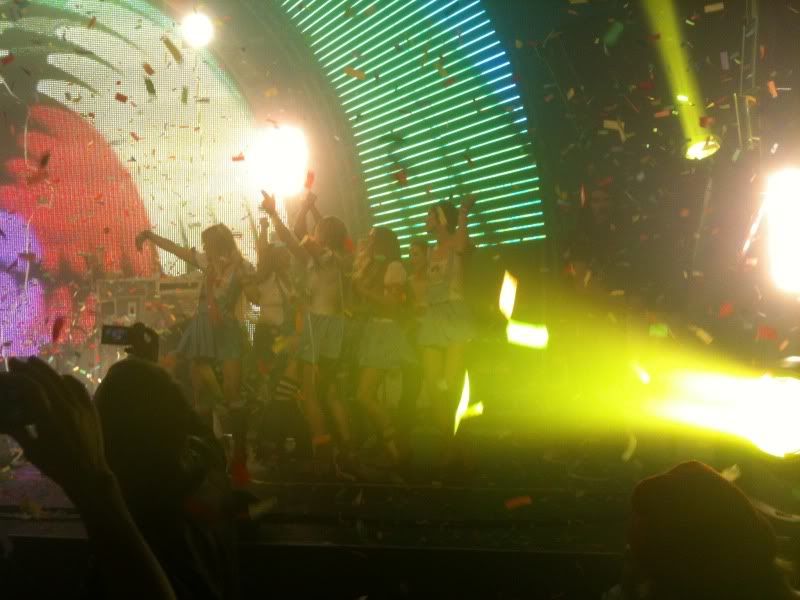 A phalanx of mildly interested Dorothys, which is a sentence I'd never thought I'd write.
But that aside, you can't say the band doesn't know how to entertain. Props and confetti guns and balloons and giant foam hands and lasers--it was all pretty stimulating. Wayne Coyne is an engaging performer, and there's no mistaking his genuine goal for the Flaming Lips experience to be a collective, unyielding celebration. Unfortunately, his momentum was derailed when he referred to our town as Charlotte. He laughed as he accepted a torrent of mock boos, and tried to backpedal with some rambling theory about the immaterial nature of location and so forth that nobody really bought. It didn't have any lasting effect on the show, but it was a little irritating. Guitarist/keyboardist Steve Drozd kept things tight. It's easy to recognize that he's the band's purest musician, his role not unlike Jay Bennett's was in Wilco. Drozd deftly handled keyboard duties when he wasn't manipulating his Frankensteinian guitar with all sorts of gizmos built in. His voice--usually a smooth and stable falsetto--is also a key component to the band's onslaught, ably complementing Wayne's gravelly wail. Together with the power-drumming of Scurlock and the quiet finesse of longtime bassist Michael Ivins, the band does a fine job of recreating the controlled unravel of their studio sound.
Unfortunately, the setlist was defined more by what they
didn't
play than what they did. Sure, it was a treat to hear "She Don't Use Jelly" and the massive show-closer "Do You Realize??" But no "Yoshimi"? No "Fight Test"? No "Race for the Prize"? Not even the massive "Watching the Planets" from
Embryonic
? Some disappointing omissions, but this is not to say there weren't some tasty selections. Hearing a soaring version of Pink Floyd's "Brain Damage" and "Eclipse" was something special, as was "What Is the Light". The
Embryonic
cut "See the Leaves" saw Coyne smashing a mounted cymbal throughout, an activity that was mirrored on the screen by a towering nude chick (ostensibly the same one who squeezed the band out earlier.) Excited as I was at Wayne's introduction of "Ego Tripping at the Gates of Hell" (one of my favorite Lips tracks), the version we got was abbreviated and understated, and it left me a bit nonplussed. All in all, it was a 15-song set.
I can't deny that I had a heap of fun and walked out of the venue sporting a silly grin. But a part of me was disappointed that the music was secondary to the fanfare, which was to be expected. But does there exist a disconnect in a live environment when the show is catered to the Freaks as opposed to the fans, both of whom showed up in equal measure? Wayne doesn't seem to care. To his credit, he's got a vision and he pulls out whatever stops necessary to see it through. Even a snobby music-first dude like me was inspired to get loose and bop balloons and scream Pink Floyd at the top of my lungs. Ultimately, it won't go down as one of my favorite concerts (especially in the shadow of
the previous evening's TV On the Radio show
.) But it was an indelible experience, impossible to forget. So to Wayne Coyne, all I can say is, "Mission accomplished, motherfucker."
*The night's highlight took place offstage, when an overzealous Freak dressed as an elf was pulled from his spot by an event staffer. The staffer was either a retired drill sergeant or 1980s WWF superstar, but whatever the case, it was evident he hated everything Wayne Coyne stood for. So when he spied this goofy nerd getting a bit out of control, the staffer cornered the guy and unleashed a public display of hellacious upbraiding that nearly brought the elf to tears as he begged for mercy. The staffer actually booted him from the show, but the elf somehow pled his way back in. So entertaining was it, that I'm now wondering if it was a part of the show. Talk about performance art!
Setlist and photos:
The Fear
Sweet Leaf (Black Sabbath cover)
Worm Mountain
She Don't Use Jelly
The Yeah Yeah Yeah Song
Evil
Ego Tripping at the Gates of Hell
See the Leaves
Laser Hands
Pompeii Am Götterdämmerung
What is the Light?
The Observer
E:
Brain Damage (Pink Floyd cover)
Eclipse (Pink Floyd cover)
E2:
Do You Realize??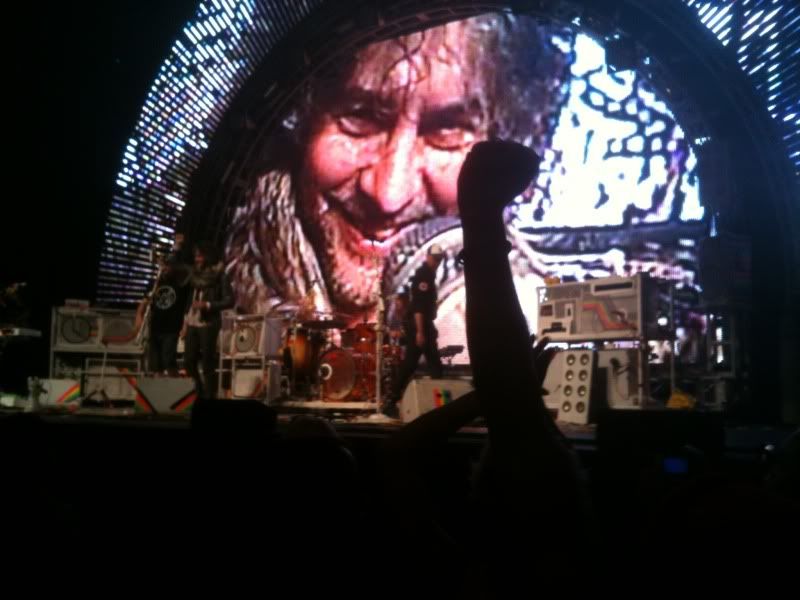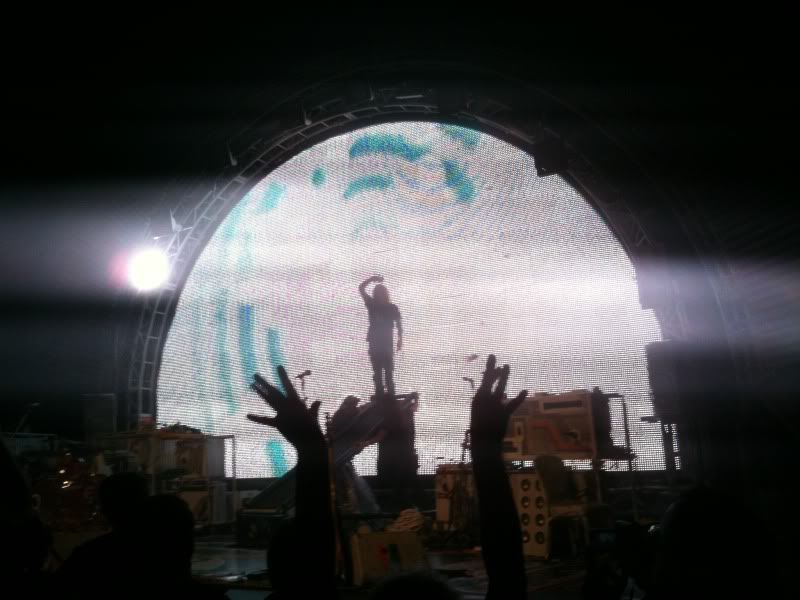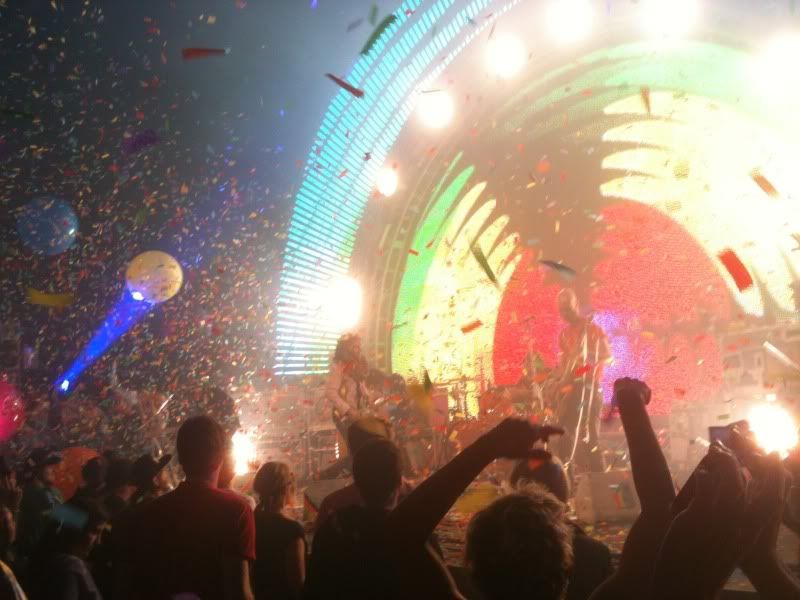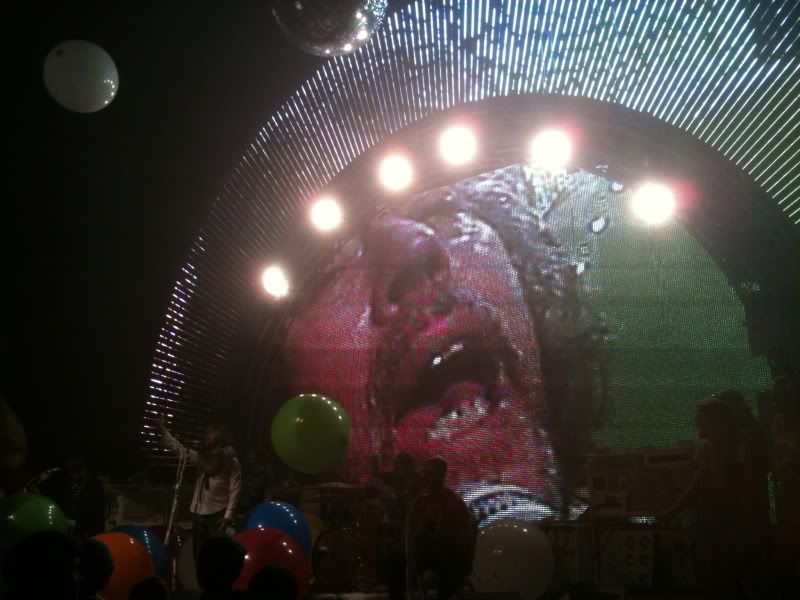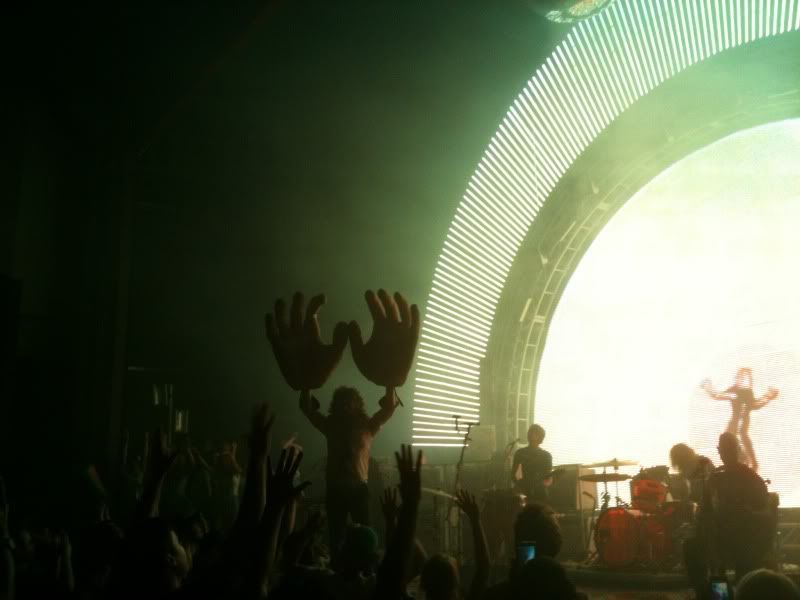 Other North Charleston Performing Arts Center Reviews:
Band of Horses w/Jenny and Johnny