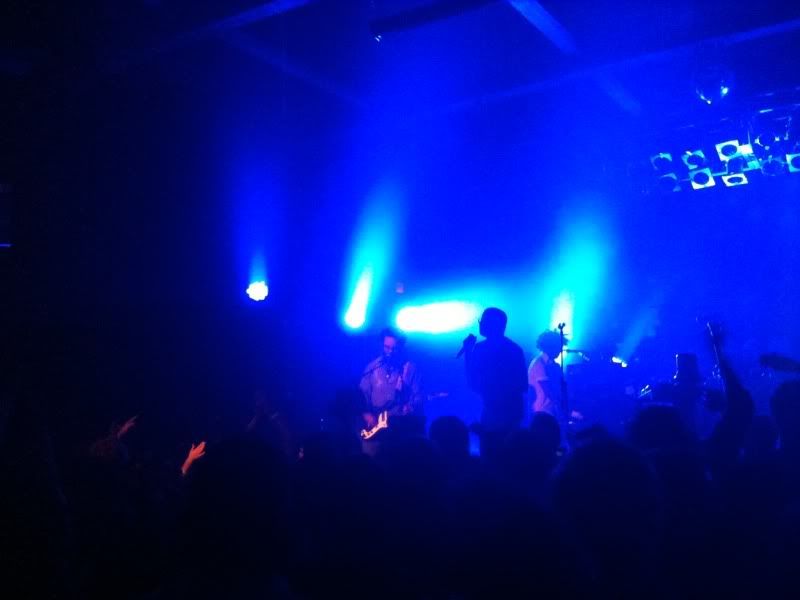 TV On the Radio
Music Farm (Charleston, SC)
October 27, 2011
It was Wednesday, and I was sitting at a bar with a buddy of mine going over some specifics for an upcoming camping trip. Eventually the conversation drifted into other things, namely music and concerts. I told him I had Flaming Lips tickets for two nights later. He casually mentioned that TV on the Radio was playing the next night (Thursday) and he was deliberating whether or not he should go. Not only did I not know about this, but I openly questioned him. After all, I'd be firmly aware if a can't-miss act like TV On the Radio was coming to town. Right?
Actually, he was right. TVOTR was playing the Music Farm, a fact that had somehow eluded me until less than 24 hours before showtime. How this happened remains a mystery, but luckily girlfriend was able to nab some tickets. Next thing I knew, we were standing amidst a sea of American Apparel and black rims at the Music Farm, waiting for the band to take the stage. Attending was a no-brainer, but this is not to say it didn't seem a bit obligatory for a few reasons. The Lips show the next night, plus I was already staring at a cluttered weekend slate, an already busy Thursday evening, a World Series game to watch. But I'd no doubt kick myself for skipping a renowned live act, one whose recorded cannon I've followed since 2006's Return to Cookie Mountain. It many ways, TVOTR is responsible for my musical wingspreading, as Cookie Mountain was one of the first relatively challenging albums I came to appreciate, especially among those that have virtually no stylistic inroads to Americana.
All things considered, we timed things perfectly. Showing up at the venue just shy of 10 PM, we saw roadies scrambling around the stage and by our calculations they were with the headliner. I usually aim to catch openers, but it wasn't in the cards tonight. After picking up a t-shirt, we were able to find a spot facing stage left, roughly fifteen yards from the stage. It's actually become sort of a defacto spot. I know I stood there or near there for Dr. Dog, Modest Mouse, and Andrew Bird.
It's always a rush to first see a band in the flesh after following them for some years. No exceptions here. The band's big three manned the near stage: fro'ed and bearded singer and guitarist Kyp Malone, dynamic lead man Tunde Adebimpe, and understated mastermind Dave Sitek. But multi-instrumentalist Jaleel Bunton's presence is felt via the bass, keyboard, and whatever else he might toss into the mix. I can't find the touring drummer's name, but big props to his bruising work behind the skins.
The band manned their instruments and launched into "Halfway Home", the opening salvo from 2008's Dear Science. It's a rumbling establishing act on record, but in a live environment it's an absolute firestorm. Adebimpe stresses the song's defining "ba-ba-bam-bam-bam" vocal refrains to the max while Sitek and Malone's guitars chug and drone. We heard a handful of Science tracks, including "Dancing Choose", "Golden Age", "Red Dress", and "DLZ". I can't actually find a setlist so I'm doing my best to recall what was played. I know we heard "Second Song" and "Repetition" from the band's 2011 release Nine Types of Light. Indie mega-hit "Wolf Like Me" brought down the house, as did the band's first notable single, "Staring At the Sun".
But more resonant than any one song was the untempered onslaught the band poured out over the crowd like molten lava. The guys never lacked energy. Their songs emanated like tractor beams from the broad stage, all draped in a haze of rich blue, purple, or orange light. Tunde is a stellar frontman, his expressive vocals complemented by arm flails and facial contortions. Kyp Malone isn't quite as animated, but he exudes a palpable kind of energy through his voice and presence alone. Incidentally, I was caught off guard by how often Malone sang lead vocals. Dave Sitek, behind his chunky black specs, oscillated steadily while manhandling his six-string, squeezing out fiery chords and leads as the band surged on. Some shows are meant for measured enjoyment, inviting each attendee to find his or her own groove and to calmly enjoy the performance within reason. This was not one of those shows. There was a roiling moshpit from the word go. It also marks the first time I've seen a crowdsurfer and stagediver make an appearance at the Farm. There was also an audience-wide rash of hat throwing that held steady throughout most of the show. It was odd, but somehow appropriate.
Mercifully (and I only say this because of how exhausted I was and my full slate in the upcoming days) the show let out by 11:30. But, of course, the best World Series game in years just had to be taking place at that time, so it was over to the bar to watch the final innings. I believe it was past one by the time my head finally hit a pillow. Indeed, it was a long, long night, but there wasn't a lingering shred of regret resulting from it. Quite the contrary, considering the show wasn't even a blip on my radar two days prior. Indeed, lost sleep can be found later, unlike lasting and explosive experiences like this.
Again, no setlist to be found, but some crappy iPhone photography for you: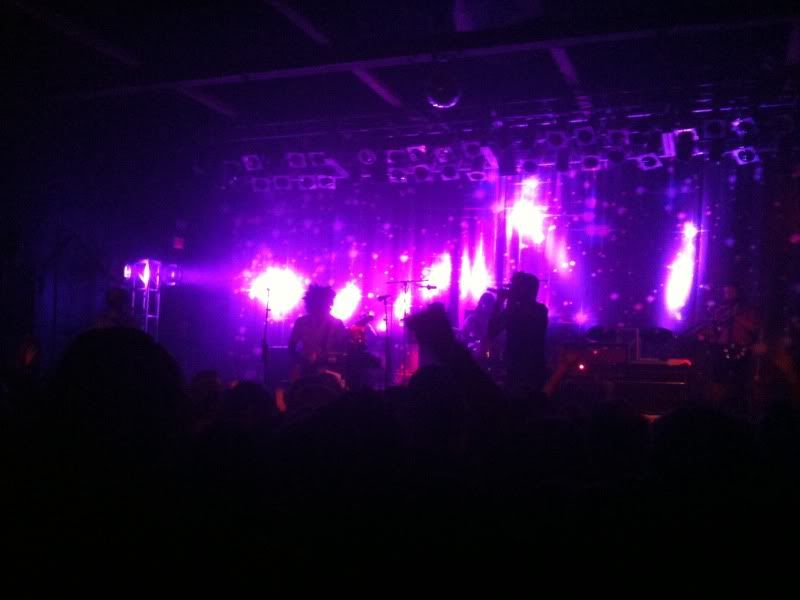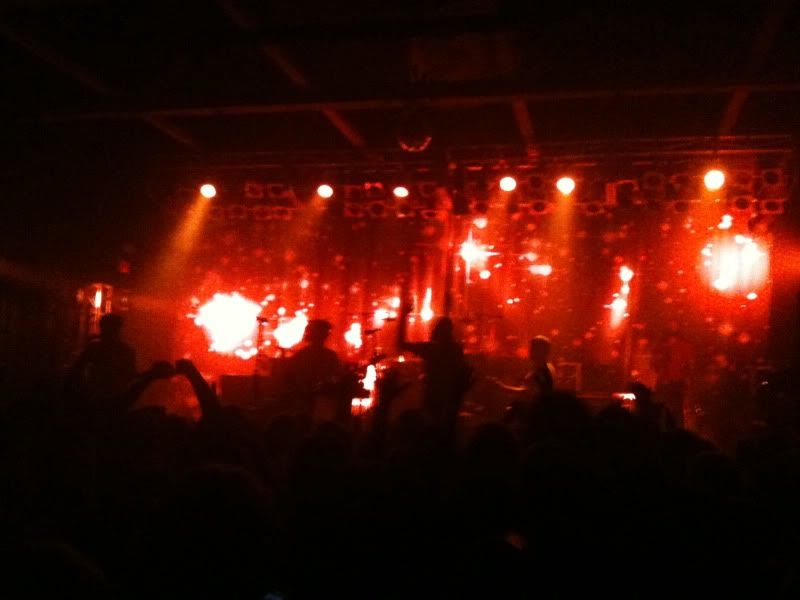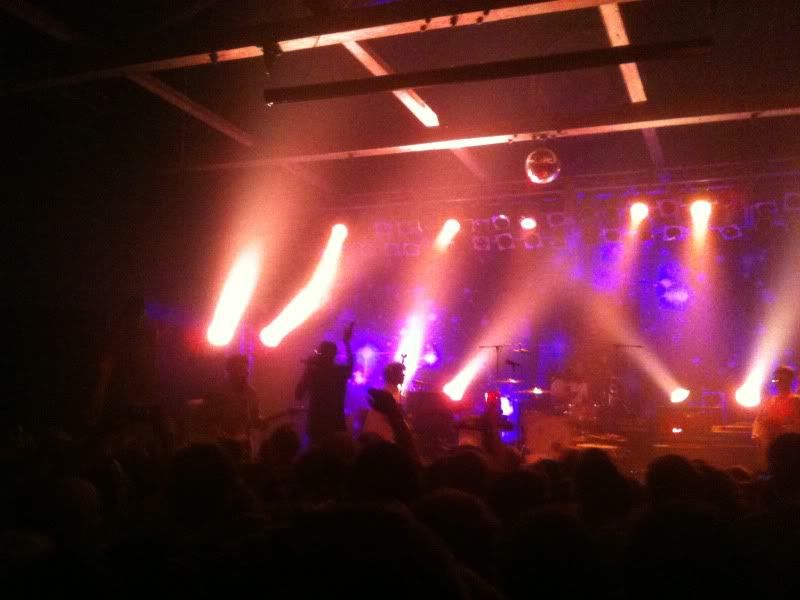 Other Music Farm Reviews:
Dr. Dog
The Hold Steady
Modest Mouse
Andrew Bird